Running Down Your Dreams
Discover your Passions and Dreams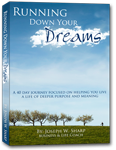 Do you have dreams that seem impossible? Visions that naysayers have discouraged? No matter what stage or life you're in, Running Down Your Dreams will help you evaluate your dearest desires and give insight into how to effectively pursue them. Join author Joseph Sharp on a 40-day journey to discovering how to stop simply dreaming and start making your biggest dreams reality.
$19.95
Purchase Signed Copy Now
Purchase on Amazon Purchase on Barnes & Noble
---
Available on the Kindle and iPad as an eBook!
Download the e-book in most formats for 50% off the paperback price online today at Amazon or Barnes & Noble!
Also available on:
iPhone
Android
Blackberry
PC