Pursuing Your Dreams through God's Eyes™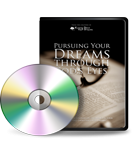 This 10-week video and study guide series is perfect for small groups or teams who are looking for a fresh, challenging look at their dreams. Join Joe on a dynamic journey through the 10-themed sections of Running Down Your Dreams. The study is focused on encouraging your group to live out their God-given dreams. Joe's passion for helping individuals live lives of deep purpose and meaning is evident as he guides viewers through tough questions and heartfelt confessions.
Leader's Guide and DVD
$29.95
Participant Guide
$9.95
*10 Study Guide Pack: $70 (30% off)
Order Leader Kit NOW Order Participant Guide NOW
Chapel Series Media Kit
---
The Chapel Series
The chapel series is a unique 10-session prospectus aimed at empowering local youngsters to dream on a grand scale. Many biblical characters can be credited with the ability to dream huge dreams, and thus had them honored by a huge God. Joseph was even labeled by his jealous brothers a "dreamer," and we all know how that dream played out, despite a huge amount of adversity.
This series applies both biblical principles and practical experience from a true dreamer and entrepreneur, Joe Sharp. It's designed to encourage youthful Christians to be visionaries and to grab hold of the purposeful life God has for them. The Pursuing Your Dreams through God's EyesTM DVD and study guide walk students through both practical and spiritual aspects of following God-given dreams. This series serves as a great supplement to the school curriculum and is sure to challenge and equip students!